Regenerate to thrive: why seabed restoration is paramount
Time is running out for the oceans. Human activity is bringing them closer to a point of irreversible degradation. But nature-inspired innovation is leading to the proliferation of several startups that are betting on technology-based solutions to address the regeneration of marine biodiversity. ECOncrete, Ocean Ecostructures and Underwater Gardens are three examples of entrepreneurship focused precisely on recovering the richness of seas and oceans.


Posted on 12.10.2021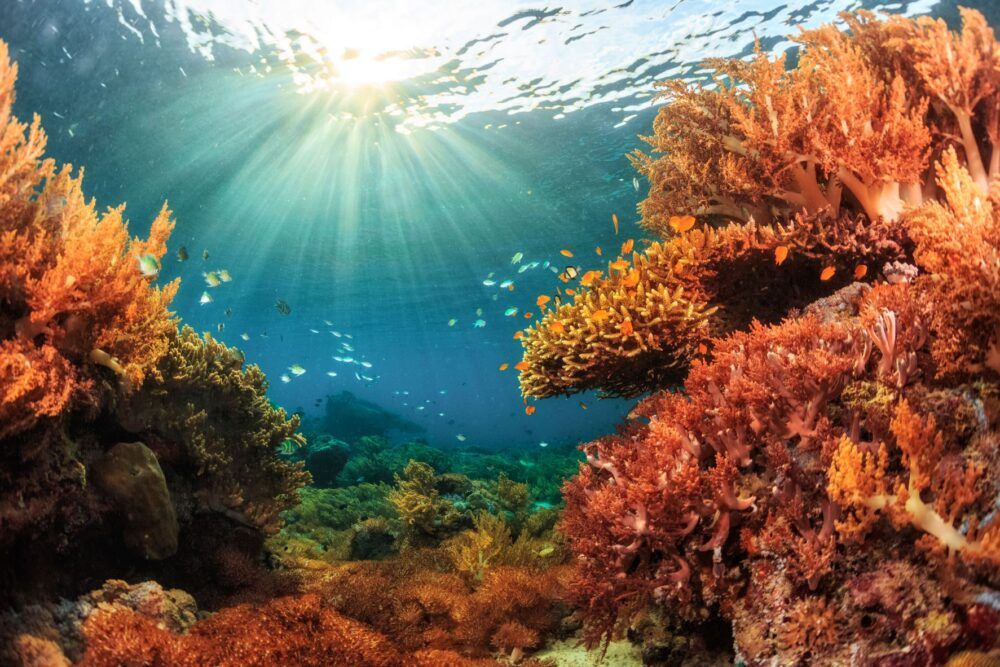 The authors of the study 'Rebuilding marine life', published in Nature, cite an example that shows that there is still hope for saving the oceans: the recovery of coral reefs in the Marshall Islands after having been a test bed for nuclear and hydrogen bombs between 1946 and 1958. They point to the regeneration of marine biodiversity and nature's ability to overcome extreme situations as two opportunities not to be missed. 
"All the answers are in nature," says biologist Janine Benyus. She is an expert in biomimicry, the science that studies nature as a source of inspiration for innovative technologies to solve human problems that nature has already solved. This is the model for several start-ups that are already applying innovative solutions to regenerate marine ecosystems.
Marine regeneration has already started
Organisations, institutions, working groups and startups are getting down to work.  High Level Panel for a Sustainable Ocean Economy, made up of 14 countries, has set a target of protecting 30% of the oceans by 2030. The European Union published a document in 2020 setting similar targets. And they point, among others, to marine regeneration as one of the tools to achieve this.
As far as the start-up sector is concerned, a number of technology-based companies  committed to a variety of solutions to address this global challenge are starting to proliferate. 
One of the oldest is ECOncrete. Founded in 2012 by two doctors in marine biology and based in Tel Aviv, it has patented an eco-bio-powered concrete technology that has the capacity to promote biodiversity, CO2 capture that mitigates climate change, while providing greater structural performance compared to traditional concrete.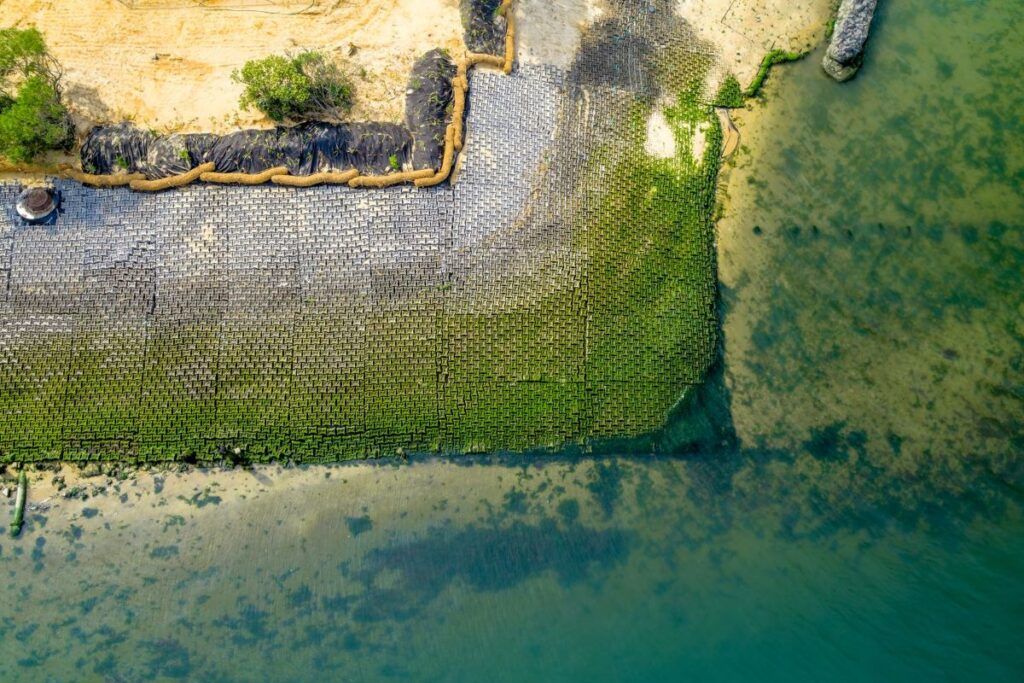 One kilometre of their concrete is equivalent to the carbon absorbed by one hundred trees, explains Paolo Tedone, Regional Sales Director for Southern Europe.
Their solution can be applied to coastlines, maritime and offshore infrastructures, something they are already implementing in places as diverse as the United States, Spain, France, Italy, the Netherlands and Hong Kong. Worldwide, 70% of maritime structures are built with concrete. "We take advantage of grey structures in the design or construction phase to make them part of the solution," he adds.
Mimicking nature
In Barcelona, Ocean Ecostructures manufactures marine structures with a calcium carbonate base that incorporates its LIFESKIN technology, which mimics nature to create new marine habitats. "We design everything from micro reefs to green walls that allow the growth or attraction of ecosystem goods that have disappeared, generate wealth and improve the quality of life of communities,'' says Mireia de Mas, project manager.
Their structures, measuring 1 metre wide by 1.40 metres high, are, she explains, manageable, easy to install in the most suitable areas according to the samples collected and the data obtained from bathymetries carried out, for example, in ports.
Also in Barcelona, Underwater Gardens' proposal consists of restoring marine ecosystems on a large scale, raising awareness of the importance of the ocean's health and promoting regenerative and sustainable coastal tourist destinations. 
Its commitment, in line with the European Green Deal, consists of applying the knowledge acquired over almost three decades by an international consortium formed by twelve countries called Blue Citizen, combining everything from physics or oceanographic biology to architecture, sociology or education in a series of articulated projects that project the regeneration of the seas in the long term.
Their Life Reef Technologies technology combines and applies a series of tools thanks to a design protocol based on parametric algorithms to optimise the conditions for the settlement and survival of benthic organisms on the seabed.  The project understands the complexity of the natural world when it comes to restoration, a process that must be carried out on a very solid and multifaceted scientific basis.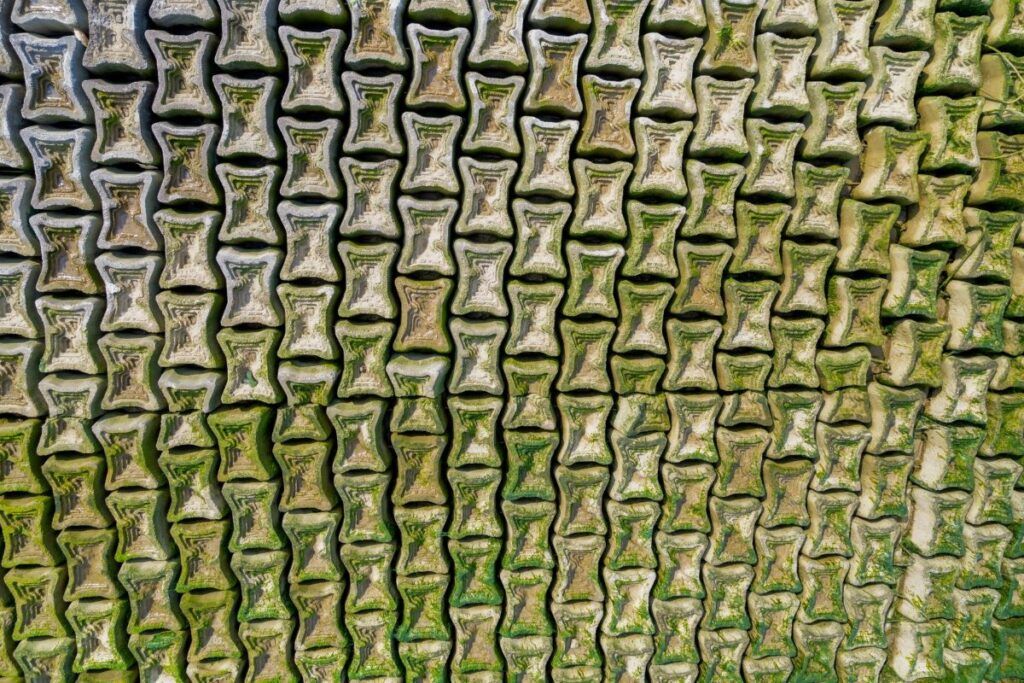 "These organisms have their preferences with respect to a series of environmental and biological factors that we analyse and identify to create suitable microenvironments that optimise their attraction and growth," shares Marc García-Durán, its CEO.
The regeneration of the seabed is the basis of the so-called blue economy, because without healthy oceans there is no possibility of developing any other type of vertical related to the marine economy
Science, innovation and technology
Each of the three startups is made up of multidisciplinary teams with backgrounds in biology and engineering. In the case of ECOncrete, its founder, marine biologist Dr. Shimrit Perkol-Finkel, began by placing structures composed of different materials and roughness in the waters of Florida, New York and Israel, places to which she returned every three months to collect data.
"This field work allowed her to identify which components are most conducive to generate species and in which seas, since different temperatures, salinity and tide levels are differential factors," says Tedone. 
In the case of Underwater Gardens, the scientific team projects degrees of plausibility that the different ecosystems present, and interventions are decided in relation to projections regarding changes in temperature, acidification, and sea level rise caused by climate change. 
Not only that, the consortium takes into account very specific aspects of the ecology and biology of the populations to be restored, such as the influence of fluid dynamics on food uptake, the genetic connectivity of the species or their ability to adapt to the new climatic conditions.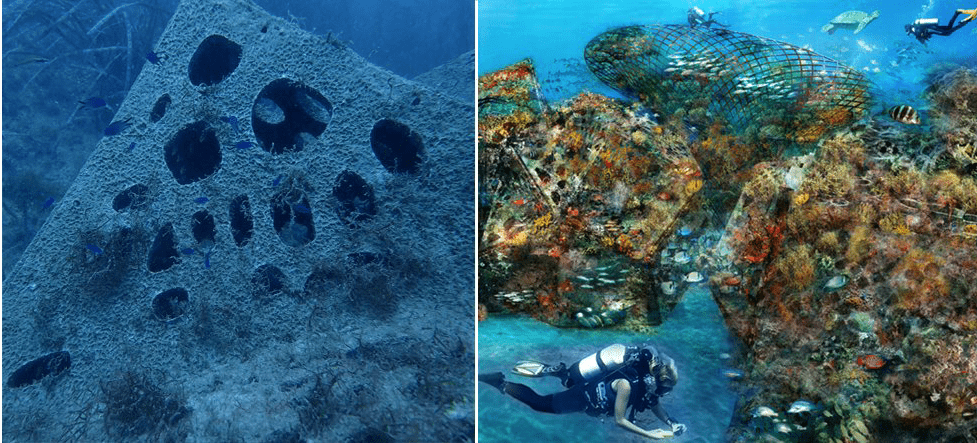 "The implementation of technology depends very much on species and location. It is interesting to go for slow-growing species to form marine forests, but fast-growing organisms can help sequester carbon faster. The monitoring techniques are varied and involve a combination of sensors, images, sample collection and monitoring of physical, chemical and biological parameters," describes García-Durán.
Mireia de Mas explains that the improvement process is "continuous", as technology is constantly innovating. "Although the product is finished, we are obliged to keep updating it and incorporate improvements that favour biofouling," she explains.
 Biomimicry is the model that inspires start-ups that are already applying innovative solutions to regenerate marine ecosystems
Blue economy: regeneration is a must
La regeneración de los fondos marinos es la base de la llamada economía azul, ya que, tal y como expresa de Mas, sin unos océanos sanos no hay posibilidad de desarrollar ningún otro tipo de vertical relacionado con la economía marina. "Cada vez más, instituciones y empresas son más receptivas a adoptar soluciones que transformen sus infraestructuras 'grises' en 'azules' porque son conscientes que su actividad degrada el entorno y es importante invertir en medios que los mejoren", asevera. 
The regeneration of the seabed is the basis of the so-called blue economy, since, as de Mas says, without healthy oceans there is no possibility of developing any other type of vertical related to the marine economy. "Increasingly, institutions and companies are more receptive to adopting solutions that transform their 'grey' infrastructures into 'blue' ones because they are aware that their activity degrades the environment and it is important to invest in means to improve them," she asserts. 
Another important task, she says, is to disseminate this scientific work to the population as a whole, which is why his installations are preferably located in ports and marinas in the Mediterranean Sea in order to generate links with the public. 
Underwater Gardens' model is also based on broadening its scope. Although they are not yet able to provide more details, they have a park in development, a new tourist product that combines Science, Sport, Technology, Education and Art with the aim of providing visitors with unique and memorable experiences of connection with the sea. In these same projects, different marine forests are considered as a harmonious "whole" that combines to increase biodiversity, biomass increase and long-term carbon sequestration capacity.
"When approaching the problem of regeneration, we realise that it is not just a technical problem, but that it involves implementing a change towards a more conscious culture. In this sense, we understand that the projects have to integrate these vectors because, for us, the new paradigm is integration," explains García-Durán.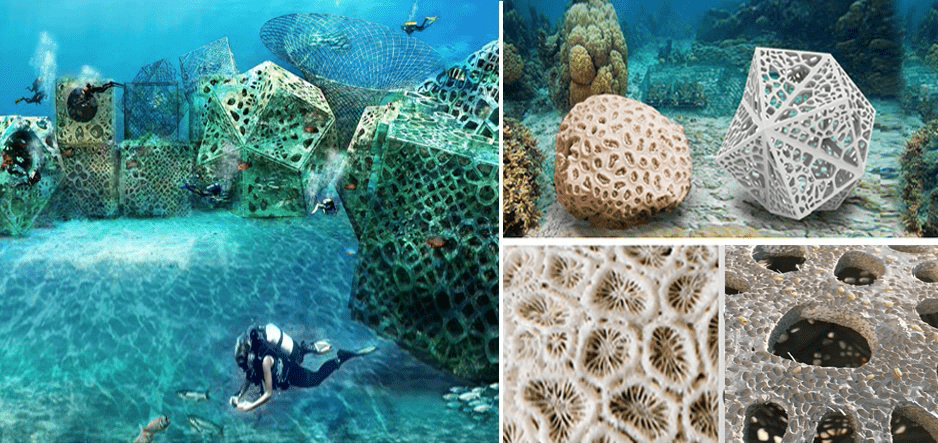 In this sense, several ports have been interested in the application of this methodology that goes beyond submerging reefs, but develops intelligent, interactive and sensorised substrates, designed ad hoc and that help to adapt to climate change.
Palamós and New York, examples of application
For the first time, Ocean Ecostructures has placed twelve units of its BioBoosting System (BBS) technology, based on natural marine substrate structures, which makes it possible to mimic nature and recover marine habitats, at the Port Esportiu Marina de Palamós, a pioneering port in the field of sustainability.
This system incorporates three layers: one designed to attract and regenerate micro-organisms, another for macro-organisms, and the last and most differential layer, called LIFESKIN, which incorporates a natural substrate with the aim of restoring the rocky coastline of this area of the Costa Brava and, above all, protected species such as posidonia and seahorses. The Palamós project includes further phases that will be evaluated in a year's time. 
The development and installation of this marine environment recovery system is part of the SEAREG research project, whose mission is the recovery of life in the Mediterranean. 
In addition to the Port Esportiu Marina de Palamós and the Port of Barcelona, the consortium includes companies from various sectors and scientific entities such as the Institut de Ciències del Mar (ICM), the Institut Mediterrani d'Estudis Avançats (IMEDEA), the Centre d'Estudis Avançats de Blanes (CEAB), the Aquàrium de Barcelona, Eurecat and the Centro Tecnológico Naval y del Mar (CNT) in Cartagena.
Palamós will not be the only port to host the new BBS technology. The Port de l'Estartit has already confirmed its incorporation, and in the coming weeks several marinas and commercial ports in the Balearic Islands, the Catalan coast and the east coast will be added, and talks have begun with Italian ports.
ECOncrete, on the other hand, has more than 40 projects carried out in ten countries and six seas. In Spain, it is developing the Living Ports project in the Port of Vigo and the superyacht marina that IGY is building in Malaga. In 2015 it started the 'Living Breakwaters' project in Staten Island, New York, which aims to reduce the risk of flooding for coastal communities, build reef habitat for oysters and fish, and create opportunities for levee management and recreation.
The project involves the installation of more than 700 metres of breakwaters -partially submerged structures constructed of riprap (rock) and ECOncrete concrete units - located between 400 and 500 metres offshore. The works include installations on the breakwaters themselves, a floating oyster nursery, off-site cultivation activities, shell collection and curing.
The 'living seawall' concept was developed by a large multidisciplinary team led by SCAPE as part of the winning entry in Rebuild By Design, the design competition launched by the US Department of Housing and Urban Development in the aftermath of Hurricane Sandy in 2012.
Sustainable Development Goal 14 of the United Nations aims to "Conserve and sustainably use the oceans, seas and marine resources." Achieving this goal will require rebuilding the support systems for marine life to thrive and continue to provide the many benefits that a healthy ocean provides to society.
The work has already begun. And it is being implemented in the real world, not in the metaverse.
To learn more
Subscribe to PierNext's monthly newsletter and gain access to exclusive reports and studies