Pier01: The Hub To Promote Entrepreneurship And Innovation
In an old 19th-century cargo warehouse, the Port of Barcelona houses one of the five most important hubs in the world, according to Forbes magazine. It is Pier01, the first campus and the headquarters of Barcelona Tech City.
Posted on 06.21.2018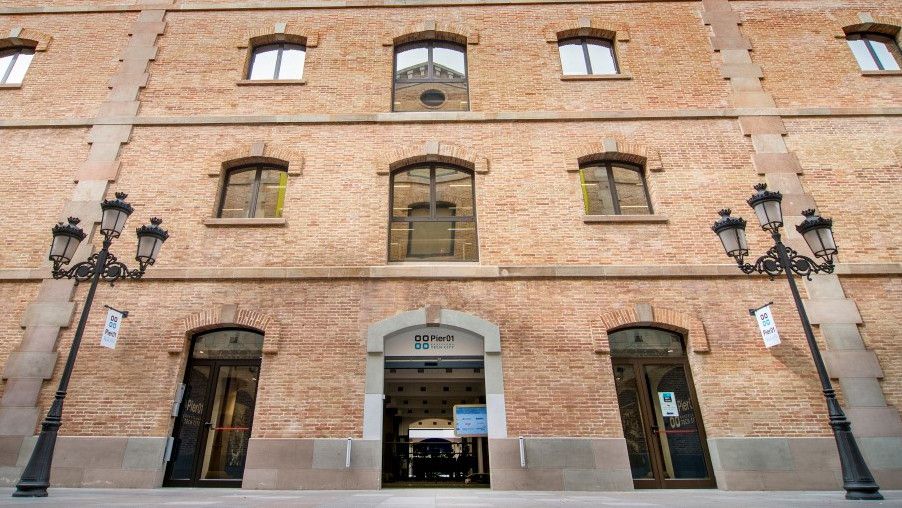 More than 1,000 people work in this building, including entrepreneurs, start-ups and innovation laboratories in the fields of mobility or electronic payment of large companies. This was the breeding ground which prompted a group of entrepreneurs to launch
Barcelona Tech City
five years ago. Its president, Miguel Vicente (the founder of around 20 start-ups, including
Wallapop
,
LetsBonus
,
Glovo
 (JustBell) and
CornerJob
), explains how the association came into being: "We had a meeting with other entrepreneurs and pioneers in tech-based companies in the city. We wanted to see how we could promote the scene that already existed in Barcelona while supporting those who were just striking out on their own". Indeed, according to Miquel Martí, general manager of
Barcelona Tech City
, Barcelona is "very well-positioned as a world tech capital; it is among the five most important capitals in Europe and the three top cities where entrepreneurs choose to set up their business". In this context, this non-profit association set out to "give back to the city what it had given us and promote the development of entrepreneurs and talent in general", in the words of Vicente, who now serves as its president.
In the mere 5 years since it was created, it has attracted more than 700 associated companies who are supported by Pier01
, and "more than 400 activities are submitted to the associates per year, including presentations, lectures and networking and training events aimed at sharing knowledge, tools and contacts for the entrepreneurs who belong to the association".
Great rapport
Shortly after it was launched, the founders of
Barcelona Tech City
felt the need for a space that could materialise and gather together all the association's talent. "We were thinking about a space like
Station F
(Paris),
Factory
(Berlin) or the
Cambridge Innovation Center
(Boston)", says Miquel Martí. "We were looking for a place that could symbolise the Barcelona brand. We approached the port with this proposal and there was great rapport immediately", Martí continues.
Barcelona Tech City
's contribution with the
Pier01
hub fits the philosophy of
Port of Barcelona
and its interest in "welcoming a wide range of initiatives in both the private and public spheres", in the words of Pedro Arellano, the Deputy General Manager of Corporate Development at
Port of Barcelona
. "If the logic of the port has always been to connect territories commercially,
it makes sense to welcome
tech projects
with identical objectives. Furthermore, they can attract other subsectors connected to the port", Arellano adds.
Miquel Martí, general manager of Barcelona Tech City: "Barcelona is very well-positioned as a world tech capital; it is among the five most important capitals in Europe".
"Smart" philosophy
Port of Barcelona, which is evolving towards
a Smart port model based on the digitalisation of services
, shares values with
Barcelona Tech City
. "We have similar ideas in that
many of the companies that belong to the association and work at Pier01 are seeking to digitalise traditional industries.
It is seeking innovative solutions and hiring and managing the talent needed to make them possible, just as the port is doing in its bid for digitalisation", says Martí. For the time being, this idea has already attracted major companies from a wide range of sectors who have moved their innovation labs to Pier01. Indeed, the occupants of Pier01 include companies of all sizes, "from coworking spaces with companies that are just getting started and only have a handful of employees to medium-sized companies which rent large spaces measuring 500 m2," says Martí. And more recently, "corporate innovation spaces" have been added, "such as the SEAT
Metropolis:Lab
Barcelona, Naturgy's
InnovaHub
or the
Payment Innovation Hub
with CaixaBank, Visa, Samsung, Arval and Global Payments; and soon Telefónica and 5GBarcelona will set their 5G lab at Pier01". In Martí's opinion, Pier01's mix "is a great combination since it merges the innovation of the large companies (supported by resources and experience) with the contributions of the start-ups and entrepreneurs, who are more focused on original, creative solutions based on the use of technology". Ultimately, one of the purposes of Pier01, besides being the "house of start-ups", is to foster communication and collaboration among all actors, not only in the tech sector but also in the economy in general. "Our most important mission is to facilitate these encounters because major projects spring from that connection", says Vicente. Indeed, these synergies can also materialise among companies in Pier01 and the entities and companies operating in the port of Barcelona. "For example, we know that
Port of Barcelona is keenly interested in advances in electrical and autonomous vehicles
. So, it would not be preposterous to anticipate that since SEAT's sustainable mobility laboratory is housed here, some kind of collaboration might emerge not only with the port but also with the city", Miquel Martí cites as an example.
Many companies at Pier01 are seeking to digitalise traditional industries, by seeking innovative solutions, just as the port is doing in its bid for digitalisation.
The Port, backbone of the hub
Today, Pier01 has a long waiting list of entrepreneurs and companies that are awaiting their turn to have a space in the hub. Likewise, other companies are growing so much that they can't remain there. In the meantime, the representatives from other sectors or technologies are becoming so important that they may need a space of their own.
In short, even before its second anniversary, Pier01 has already grown small for Barcelona Tech City and the city's tech scene. "We would like to add other spaces, like thematic campuses, in the city, but always viewing the port and Pier01 as the backbone of the project", says Martí. In fact, a new hub close to the current campus will soon be launched, this one focused on blockchain technology. "The strategy is to stay in the port, and we are even considering getting closer to spaces used for sailing and concentrating on solutions more geared towards sea traffic", Martí concludes.