It's not logistics fiction: this is how Hyperloop will be used in ports
Is a levitating pod traveling in tubes at 1,000 km/h the future of freight transport? Hyperloop promises to revolutionize logistics, reduce emissions and decongest rail and road traffic, both passenger and freight.

Posted on 02.10.2022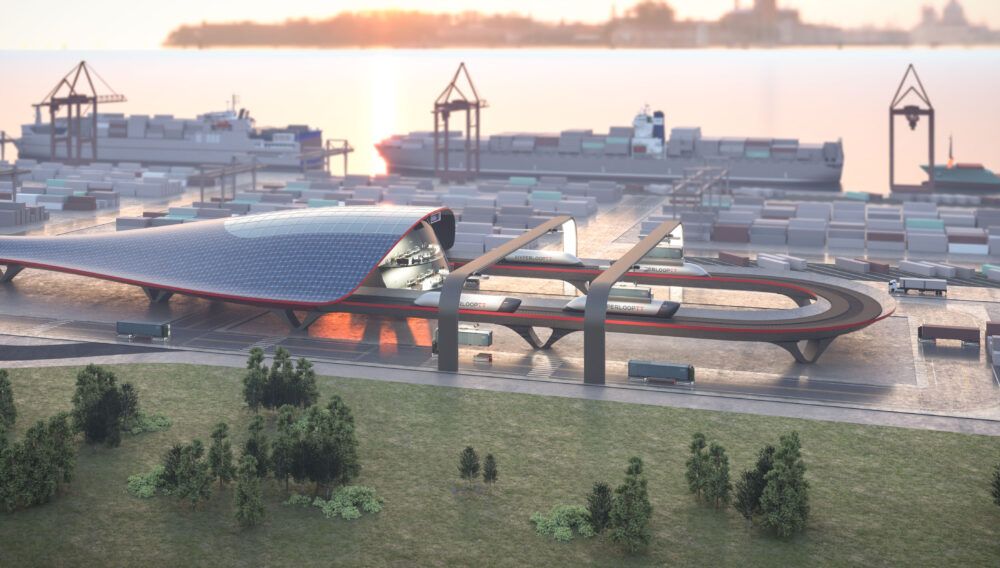 What is hyperloop and why is it called the fifth mode of transport?
Hyperloop is a transport system for passengers and goods based on pods levitating inside low-pressure tunnels. It minimizes air and ground friction and thus enables the possibility of reaching speeds exceeding 1,000 km/h with minimal energy costs and zero direct emissions. Hyperloop has the potential to generate more energy per year than it consumes, with renewable energy sources such as solar panels installed on the transit line itself.
Elon Musk first mentioned the concept in 2012, although it is based on a previous idea by engineer and physicist Robert Goddard (1882 - 1945), who as early as 1909 proposed the idea of a vacuum train. Since then and up to the present day, numerous initiatives are trying to bring its development to fruition. 
HyperloopTT analysts estimate that the implementation of this transport system worldwide will reduce CO2 emissions by 143 million tons per year. Moreover, the Spanish firm Zeleros has published a report entitled A Global Hyperloop Network - Vision 2050 in which they forecast that by 2050 there will be a global network of 88,500 km used by 1,457 million people every year.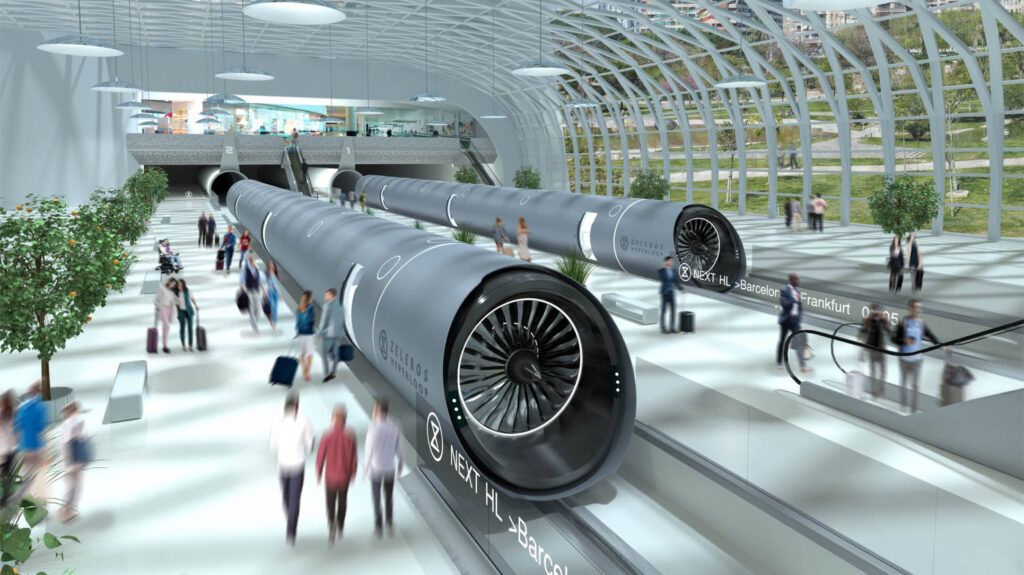 Andrés de León, CEO of HyperloopTT, and Juan Vicén, co-founder and CMO of Zeleros, two of the leading companies in the development of the hyperloop, explain to PierNext the challenges, advances and expectations of the so-called fifth means of transport.
Hyperloop: the solution to logistical challenges?
This new transport method, which is a hybrid between a train and an airplane where specific technologies such as magnetic levitation, high frequency control, pressurization systems, automation, high power electronics, electric propulsion or energy storage are applied, offers numerous advantages applied to sectors such as logistics.
"In this case, the linear motor that we have developed together with CIEMAT could be used to move containers in a 100% electric and automated way, both within ports and in their transport to logistics storage areas or immediate hinterland. Since 2019, we have been cooperating with the ValenciaPort Foundation to study this application that uses hyperloop-derived technologies for the port environment. Shortly after validation, the port of Valencia and other global ports could use this technology to enhance their operations," says Juan Vicén, co-founder and CMO of Zeleros.
In parallel, the hyperloop system proposed by Zeleros would bring something "completely disruptive" to the global transportation equation: a long-distance ground transportation system for goods at cruising speeds similar to those of an airplane, 100% electric, safe and autonomous, and free of direct emissions. Reduced emissions, greater automation, decongestion of rail traffic... Hyperloop promises, in short, to solve issues that the supply chain has yet to resolve.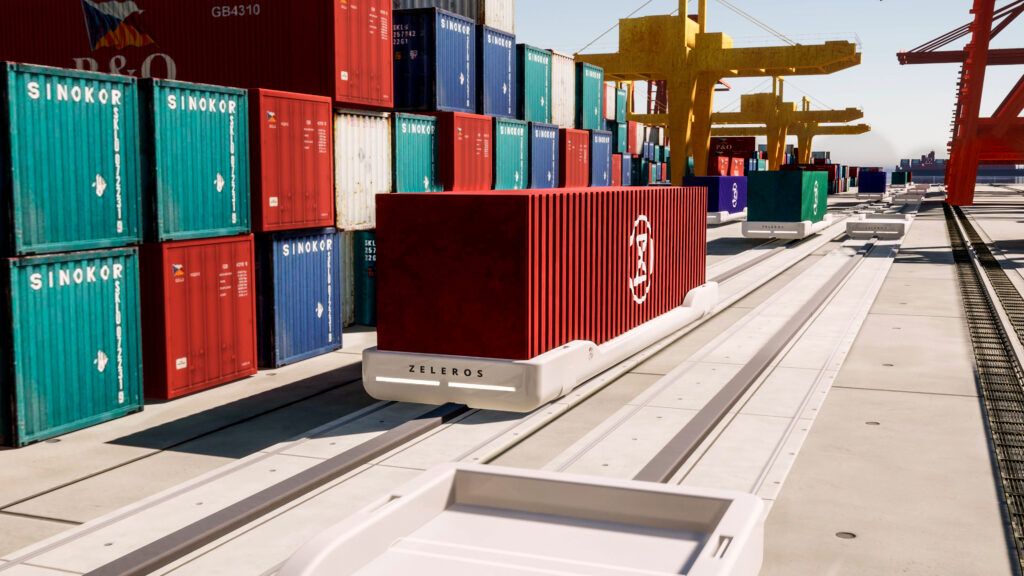 "This system, which could use the same infrastructure as passenger systems, would make the global supply chain more flexible," he continues. Vicén estimates that the hyperloop for goods will be implemented before the capsules for passengers.
At HyperloopTT they are developing several systems including mixed systems for passengers and small-sized goods; a system for transporting small-sized goods (standard containers for air traffic) and another for transporting ISO shipping containers up to 45 feet called Hyperport.
"The latter has a larger size and allows plug & play integration with existing facilities of most major ports," explains Andrés de León, its CEO.
 Europe and the United States have included hyperloop in their mobility and infrastructure plans, and countries such as India, China, Saudi Arabia and the United Arab Emirates have already begun studies to build the first routes
When and where hyperloop will be implemented
Both HyperloopTT and Zeleros expect major advances from, according to Vicén, 2025, a key year because until then progress will be made in high-speed tests, especially for freight transport, as the regulatory framework is not expected to be as strict as that for passenger transport.  However, it will not be until 2030 and 2050 when the expansion of routes that allow the transport of passengers and cargo will take place.
The creation of the Spanish startup is closely linked to the Hyperloop Pod Competition that Elon Musk organized in 2015 in which they won the awards for Best Design Concept and Best Propulsion.
The company employs more than 180 people worldwide and works with companies in the railway, infrastructure, aviation and energy sectors, such as Renfe, Airbus, Acciona, Arcelormittal and Red Eléctrica de España.
Zeleros is currently working on integrating the subsystems into a complete vehicle and its demonstration in a relevant environment, after validation in the laboratory. "The pilot project in Valencia, supported by the European Commission through the Eureka Eurostars program, is already underway and we will have results this year," continues Vicén, from Zeleros.
HyperloopTT, meanwhile, was born in 2013 on a crowdfunding platform. Since then it has brought together a large team of engineers and other professionals working in collaboration with more than a hundred institutions, including universities, research centers, governments, companies and other entities. Currently, they collaborate with 800 people in more than 50 countries around the world.
Their main projects are the research and test center in Toulouse, the Hyperloop network in the Great Lakes of the United States and in the United Arab Emirates, the latter of 10km and built in several phases that they expect to finish in 2023.
In November 2020, Virgin Hyperloop organized a passenger ride on its test track in Las Vegas. It became the first company to test its pod with people, although the pod only reached 160 km/h due to the length of its track, of just 500 meters.
On the logistics side, Virgin has begun talks with airports and port facilities around the world to create a pilot program for cargo shipping services, with the goal of starting to run these pilots by the end of 2024. They point to the United States, Europe and India as the areas that are showing the most interest.
The ambitious project with the Dubai-based DP World is particularly noteworthy, as shown in this futuristic video.
HyperPort: the first hyperloop for freight to be launched in Hamburg
In October 2021, HyperPort was presented at the European ITS Mobility Congress 2021, a solution designed for ports developed by HyperloopTT and the terminal operator of the port of Hamburg Hamburger Hafen und Logistik AG, under the company HyperPort Cargo Solutions (HCS), created in December 2018.
Located in Hamburg, it will be the first port for a hyperloop intended for freight transport  located precisely in a port facility. It will consist of a loading dock and a specially designed capsule for port and land operations.
The HyperPort system is a plug-n-play solution for port operators, capable of moving 2,800 containers per day at a speed of 600km/h, achieving aircraft speeds at a lower cost. 
As the containers are standardized worldwide, they are particularly suitable for this system. Unlike the passenger hyperloop, the goal of HyperPort Cargo Solutions is not speed, but to achieve the highest possible throughput in energy-efficient transport.
The design of the port and the cargo transport capsule is the responsibility of the Spanish consulting firm Mormedi, which has devised a system that will make it possible to unload a ship in much less time than other traditional means such as freight trains or trucks. "The design allows loading a container every 55 seconds and launches the capsule at about 1,000 km per hour with 55-second intervals per capsule," said its founder and CEO, Javier Moreno.
"HyperPort allows any seaport to increase its capacity with one million containers in each direction, connecting the port with its hinterland or logistics platforms in a safe, fast, sustainable and programmable way. Its reception has been spectacular. In fact, we are in talks with different ports and organizations around the world to identify and analyze which routes and connections would be optimal for its implementation," explains de León.
The initial plan includes the design of the concept and the roadmap for the launch of a commercial prototype expected to be ready in 2023.
The legal framework of hyperloop
Like any transportation system,  hyperloop needs a regulatory framework to be in place, which, in this case, will be much stricter for passenger transport than for freight transport. 
Both companies are participating in roundtables and forums aimed at advancing this issue. In the case of Zelero, since 2016 it has been working with institutions such as the European Commission's Mobility unit and hyperloop promoters to create a regulatory framework for its commercialization. 
"Zeleros uses technologies already regulated in the aviation, rail and other sectors, whose safety has already been proven for mass transit, which speeds up the regulatory processes," says Vicén.
For the CMO, Europe is being a pioneer in this aspect, as it has created the world's first hyperloop standardization committee and has organized working groups to advance in the regulatory field in order to ensure that companies like Zeleros have a framework to be able to operate from 2030 onwards.
"The regulatory framework is indeed one of the main challenges for a rapid development of hyperloop," confirms de León. In Europe and for several years now, HyperloopTT has been working closely with the European Commission, Europe's Rail and other relevant European institutions as well as participating in the European hyperloop industry forum to establish a specific regulatory framework. 
To expedite this work, they commissioned the international inspection and certification consultancy TüvSüd to draft a base document on the applicable standards, measures and processes required to design and certify safe and reliable hyperloop systems.
Vicén also points to the importance of reducing infrastructure costs, responsible for 95% of the total project budget. "The onboard propulsion system allows Zeleros to avoid the deployment of linear motors, which are the ones used by magnetic levitation trains along the tube, thus drastically reducing costs. Also, the simplicity gained allows the deployment of routes of up to 1500 km in a cost-effective manner and reduce maintenance requirements over the lifetime of the system," he says.
Finally, the last challenge is to create the first routes. "This requires the willingness and support of governments for these infrastructure projects, and in this sense very relevant steps have already been taken. For example, Europe and the United States have included hyperloop in their mobility and infrastructure plans, and countries such as India, China, Saudi Arabia and the United Arab Emirates have already begun studies to create the first routes," shares Vicén.
More information on the application of hyperloop in ports and freight transport:
Subscribe to PierNext's monthly newsletter and gain access to exclusive reports and studies