The new global innovation agenda meets at the Tech Tour Maritime in Barcelona
For two days, Barcelona was the capital of entrepreneurship and investment in the maritime-logistics sector, bringing together innovation and capital to demonstrate that start-ups, with the support of capital, can respond to the global challenges of the industry.

Posted on 06.09.2022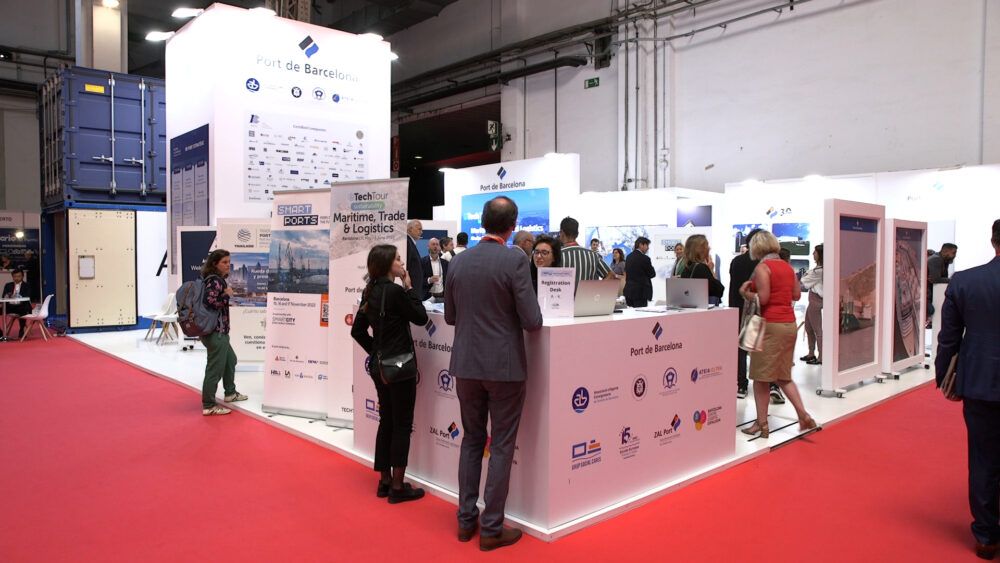 Start-ups, investors and leading companies: together in Barcelona
Start-ups, investors and other industry players came together at the first Tech Tour dedicated to the maritime-logistics sector. A unique opportunity that generated much-needed meeting spaces between innovation and investment, a better understanding of what investment funds are looking for to support a start-up and, on the part of the latter, how they convince investors to back their technological solutions that enable them to tackle the logistical and environmental challenges facing the sector.
This first Tech Tour dedicated to the sector was divided into two days: the first, held on 31 May, took place at the Port of Barcelona, host of the event, with a series of round tables and presentations by companies and investors where issues such as raising capital, industry trends and how to be a disruptor in the sector were debated.
The scenario for the second day was the SIL, at the Fira de Barcelona, where 33 start-ups gave a brief presentation of their solutions dedicated to digital commerce and logistics, freight and sustainability, in front of a jury made up of the investors themselves.
"Tech Tour Maritime Trade and Logistics is creating a new innovation agenda, bringing together established industries with entrepreneurs, start-ups and a really important stakeholder, the investors. Traditionally, the industry has not been aligned with the start-up culture, but this is changing. Without good communication and collaboration between these new players, we won't get the best results for all stakeholders," said Rachel White, CEO of Next Level Information, about this first edition.
What are investors looking for?
The start-ups that presented their projects are in one of the following stages of capital investment:
Seed: The stage in which the business model is validated and begins to attract funds in later stages. The first rounds of investment are carried out, in which an attempt is made to raise funds from accelerators or business angels. The capital raised is invested in product development, marketing and advertising and in expanding the team.
Capital raised: between $10,000 and $2 million.
Growth: This is the phase of continuous product improvement, in which the start-up already has recurring customers, a defined strategy, revenues of around $1 million and is focused on growth.
This is where venture capitalists come into play, looking for companies that can achieve revenues of between $25 million and $100 million within three to five years.
Expansion: The product is already established in the market and the start-up is looking for new markets or new niches in which to break into. This expansion is materialised in series C investment rounds, the last round which enables the company to reach a revenue range of $25 million to $1 billion.
Stephan Morais, founder and managing partner of Indico Capital Partners, an independent Portuguese venture capital firm that invests in global technology companies focused on SaaS (software as a service) solutions, artificial intelligence, blockchain, internet of things, or cybersecurity, explained that when there is a lot of risk it is best for investors to work with each other, in cooperation, to help start-ups get a foothold in their growth stage.
"Events like Tech Tour are very important to share information, best practices, valuations and opportunities. More investment funds are emerging in the maritime sector, committing significant amounts of money, so we need to be patient. Investors, entrepreneurs, large companies and the public-private sector have to work collaboratively. Things take time but the moment of the sea is coming," he said.
For Robert Genieser, managing partner of ETF Partners, an investment firm specialising in investing in companies that offer sustainable solutions through innovation, the focus is on start-ups that can tackle big global problems by answering two questions: Will the development of their technology and their passion as entrepreneurs make the world a better place? Can they build a successful business that generates a large commercial return?
"The key word is innovation because it drives the world forward. If you think about shipping and logistics, it has always been seen as a very traditional industry, but that is changing because ports, shipping lines and charterers want to be more sustainable and the only way to do that is to adopt new technologies," he explained.
Paulina Banszerus, investment manager at Schenker Ventures, a venture capital firm that focuses its investments on logistics, warehousing and transport companies, says that as an investor she follows a standard criteria based on the product and the market and, especially in the seed phase, on the experience and skills that the team brings together, on how they complement each other and on their specialisation, in this case, in the maritime and logistics sectors.
"It is very necessary to generate an ecosystem like the one created on this second day of Tech Tour, with investors and start-ups but also with service providers, larger companies focused on an industry, creating spaces and moments to sit down and learn about their proposals. Everything I do as an investor is out of conviction; we support and help these great disruptors so they can grow their businesses," she said.
Start-ups: the challenge of securing capital
For their side, the selected start-ups held pitch rounds of their products and services lasting about ten minutes, answered questions from investors and had the opportunity to meet face-to-face with venture capital firms.
David Baur, founder and co-CEO of Switzerland-based AELER, which presented a smart container that reduces CO2 emissions by 20% and significantly increases payload by 17%, said that last year they already secured investments in a second seed round, which allows them to be in the right place to scale-up quickly.
"It's complex, but the more you grow, the greater the market traction and the easier it is to secure the right kind of investment, as well as the necessary networking with supply chain players," he said.
In 2021, AELER secured €474,647,00 in investments and a fortnight ago they certified the most advanced version of their container. "The impact has been very positive so far, as our product, exhibited at the Port de Barcelona stand at SIL, has aroused a lot of curiosity and many questions," he celebrated.
For Sebastián Cazajus, co-CEO and founder of Cargofive, the first online platform that allows to compare prices and sell space in containers in real time and in a transparent way, and which has partners such as CMA CGM, Maersk Line and Evergreen, investment must be linked to the business model.
"It is essential to define what you want as a company because there are many strategies where investment is not necessary. In our case, being a software company, we do need a lot of start-up capital. Investment has always been one of the main challenges that, as a founder, I have had to dedicate a lot of energy and focus," he said.
Among these challenges, he highlights the preparation of the first presentations to get "the first tickets", and later on, understanding where the company needs to position itself to access investment funds and reach higher rounds of financing.
"At the beginning, the focus of investors is on the team, how disruptive the project is and what the value proposition is. Then, at a later stage, they go into detail about the financial aspect, what are the multipliers you are having as a start-up and the long-term vision of how you are going to change the industry," he continued.
Karno Tenovuo, co-founder and CEO of Awake.AI, a platform that brings together all maritime and land-based stakeholders in one place to increase safety, efficiency and sustainability of port operations thanks to Artificial Intelligence, explains that in his case, attracting investment is proving to be a learning curve.
"I have spoken to hundreds of international investors to understand what they are looking for in a start-up, especially in this industry. So the mission is double, to introduce them to our product and to convince them that this sector has a lot of opportunities," he explained. 
Tenovuo, who previously worked at Rolls-Royce, explains that they collaborate with ports such as Valencia, Helsinki, Rotterdam and Antwerp. "Developing AI capabilities for the world's smartest ports means we have references, a unique solution, a team and a background which makes it easier to build for the future," he said.
The next steps of Tech Tour Maritime, Trade & Logistics
Tech Tour Barcelona was the first maritime industry-focused event of an organisation that holds around 25 events a year to connect entrepreneurs and investors from different sectors. William Stevens, its CEO, explained on the second day that investors were "impressed" with the start-ups, their traction and their level of technology and innovation and the quality of their customers, especially in the digital trade and logistics niche.
The event, however, is not over yet. In mid-June, several online presentations will be held by the start-ups that could not attend the event in Barcelona. Once these have concluded, a winning start-up will be chosen, and will be awarded greater visibility by the Tech Tour network and will participate in the main event held every year. A 'best of the best' that brings together the most relevant international entrepreneurs from all sectors.
Subscribe to PierNext's monthly newsletter and gain access to exclusive reports and studies